Description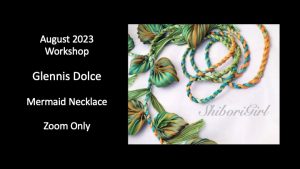 Saturday, August 12, 2023
Whether you use this adornment as a necklace, a waist wrap, or as innovative body decor, this piece is fun to both make and to wear!
Glennis originally called this the Mermaid Necklace when she first made and sold them. It reminded her of fancy seaweed and we all know mermaids like beautiful things and swim with seaweed adornments!
It's not difficult but takes a little time (can be completed in about 3 hours) and the kit includes everything you need to complete it. Add beads to further enhance the look or keep it simple- it's up to you
Each kit includes 6 yards of silk cording and 2 yards of hand dyed silk shibori ribbon, and beads to match or contrast. Kit Cost: $57
Glennis will put the kits into her online shop by July 20th with a choice of 3 different colorways. The shop is Shiborigirlstudios.com. You should order the kit by August 1st to ensure delivery before class on August 12th.
Sales of this workshop are now closed to guarantee delivery of kits in time
PURCHASE KITS HERE: https://www.shiborigirlstudios.com/shop/silk-shibori-mermaid-neckpiece-hzb7b  ORDER BY AUGUST 1!
1:30-4:30PM ONLINE workshop