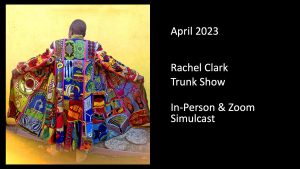 Rachel D.K. Clark is a contemporary folk artist, teacher and lecturer who comes from a long line of sewers, beginning with her great-grandmother. She has been doing wearable art since 1973 and teaching on the national circuit since 1990. Eclectic fabric mixes, vibrant designs, and a keen sense of humor characterize Rachel's work.
While her garments and quilts can be whimsical, political or a personal statement, they always reflect her love of traditional quilt making. She has done many one-woman shows around the country and her work has been featured in various gallery shows, magazines such as Threads, and "The Quilting Quarterly" on HGTV's Simply Quilts.
We guarantee you will be amazed by the one-of-kind wearable art pieces that she is bringing to show us.  She is a marvelous speaker with amusing stories that she will share about each of her creations.  Please take this opportunity to see Rachel and her beautiful works of art!