April 9, 2022 — Lorraine Torrence Workshop: Making and Using Bias and Straight of Grain Tapes in Garments(Zoom)
This is Part 2 of a two part workshop! Part 1 is on March 26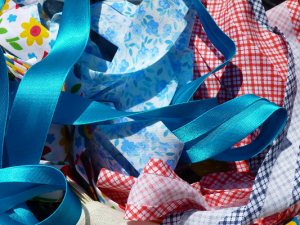 In this part of the class, we will look at a slide show of the garments made by the students using bias and straight of grain tapes.  Each student will have a chance to talk about the work they are presenting, describing their process, any challenges and how the challenges were overcome, any questions about the process which would make another project easier, and hear comments and critique from other students and the instructor.
EXTRA
An inexpensive reference that may be ordered prior to the class, if done so by March 9, 2022:
Bright Ideas for Wearables, Vol. 5: Bias and Straight of Grain Tapes  Leaflet from Lorraine Torrence Designs available for $4 at
https://www.lorrainetorrence.com/shop/Books-DVDs–Leaflets/p/Bright-ideas-for-Wearables-Vol-5-Bias-and-StraightofGrain-Tapes-x15782531.htm
Purchasing the workshop will give you links to register for both Zoom sessions
$65.00Add to cart
Share This Story, Choose Your Platform!