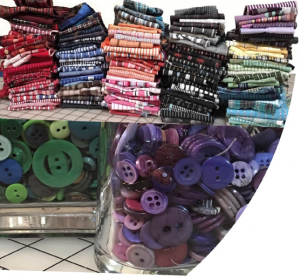 Meeting and Stash Extravaganza
Scheduled to be our first in person stash Sale since 2019!
Instead of a potluck, coffee and snacks will be served starting at 9AM to members who bring items for the Stash Sale.
We will start with a BRIEF zoom meeting for the annual Board Election.
We will do our best to keep a session running in a corner of the space so local and remote members can mingle, but that may prove unworkable.
Planned for live and Zoom simulcast
This is the PenWAG year-end holiday celebration. Besides sharing each others' excellent company, we get to raid an amazing collection of fabrics, patterns, and other supplies that members donate from their personal stashes, and your donations at the Extravaganza help support all the non-profit activities of PenWAG (including our scholarship fund, which provides scholarships to a high school and a college student trying to gain further education in a design career.). The more you donate, the more PenWAG can do!
Note: new location this year, not the Campbell Community Center
Saratoga Senior Center,
13777 Fruitvale Ave, Saratoga
---