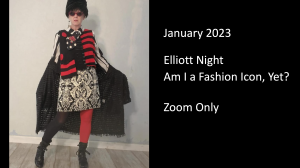 Clothes can be an expression, a kind of weird ever-changing art form that can alter not only our own mood but the mood of other people.
Choosing to dress more vividly or dramatically can open us up internally and externally. Dressing and shopping for clothes becomes something more–a passion.
The most important part is to have fun, make it fun, and be open to what your fashion style brings.
Note: This is a virtual event (web-only)
Not a PenWAG member, but want to attend?
$5.00Add to cart
---