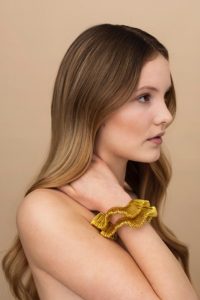 In this workshop, taught by artist Tonje Halvorsen,  you will learn how to create with safety pins.  It is a workshop both for the experienced craftsperson wanting to try something new and for the beginners who are curious about giving this craft a try.  We are going to walk through the basics of the craft, so no prior knowledge is needed.
We will go through the different techniques of how to create textures and art pieces using safety pins (28mm).  After the introduction we will create curvy bracelets with help and guidance from Tonje.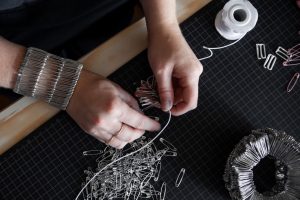 Supplies: This project will use 28mm safety pins.
You can purchase your own pins
28mm  safety pins ~200 per bracelet.
You will also need 1-1.2mm elastic, 50 cm per bracelet.
Or you can order a kit directly from Tonje for a discounted price of  €10 + €8 shipping (That's about $20 plus shipping).
IMPORTANT: kits must be ordered by Christmas Day (25 December 2021)!
(We strongly recommend ordering by early December as the kits must be mailed internationally)
The regular price of the kit is €15; your email receipt will include a discount code for the reduced price.
The kit is available at https://www.tonjelinnea.com/shop/p/workshop-kit-1
(Use code WORKSHOP22 to get the €5 discount on one kit)
$65.00Read more