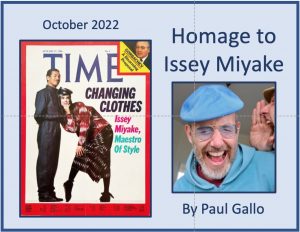 October 8, 2022 Zoom Simulcast : An Homage to Issey Miyake
by Paul Gallo

10:30AM, Campbell Community Center PLUS Zoom
A Late-breaking change in our PenWAG 2022 Program!
Paul Gallo, one of PenWAG's favorite presenters, will be delivering a homage to Japanese designer Issey Mikaye.  Issey's Vogue pattern series made his fashions accessible to home sewists.
Wear your Miyake designs to this presentation!
This program is free to all 2022 Active PenWAG members; online registration and login information will be sent via electronic communications.

Non-members may register to attend for FREE for this special event! and obtain the link through our online enrollment store.
Zoom Registration and login information will be sent in the receipt after the cart is processed. 
---
Want to make a non-member registration for this event?  Click on the Add to Cart button to add Guest Registration to your cart: