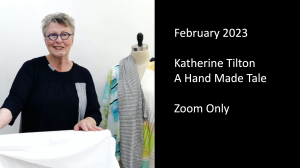 Working with my hands brings a joy beyond words. Whether using paint, yarn, thread, or fabric; whether purposed for function, form, or fun; whether using new materials or used; whether polished or primitive — hand made work continues to bring me pleasure and presence. From painting on canvas to weaving, then to fabric painting/surface design, on to clothing — stitching over, under, on top of, within — always with the hand, the touch, the feel, this is my story.
Biography: Katherine Tilton brings a light-hearted clarity, simplicity, and sense of deep play to all she touches. She is an artist, educator, designer, and sewer. Katherine has designed her own lines of clothing and accessories, selling in boutiques, major department stores and catalogs. She creates unique and altered clothing with a quirky juicy flavor using surface design, upcycling, and embellishment. Katherine maintains a creative studio in southwestern Oregon where she works with the online fabric store MarcyTilton.com and designs for the Butterick pattern company. She and her sister Marcy conduct studio design tours to Paris (ParisTilton.com) exploring and playing in the creative essence of that magical city.
Want to attend as a guest?

$5.00Read more