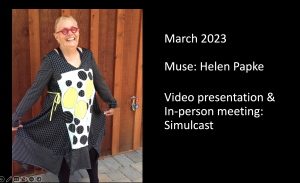 A special World Premiere exclusive for PenWAG!
An interview and trunk show with Helen Papke who has inspired dozens of sewists in many Design Outside The Lines and other retreats.
Helen's outlook on creativity will get you super-charged to move forward with projects you've been dreaming about or might even inspire you to go further into new realms of creativity.
Words from Marcy Tilton about Helen:
Helen's inner light shines from within. She evokes a vibe of, 'I want to be more like Helen' for her fearless creative spirit and from the heart kindness. Plus, she continues to make the coolest most intriguing clothes and wears them with a natural kicked back joie de vivre.  
Words from Diane Ericson about Helen: 
Helen is a gift to all of us textile lovers!! Her remarkable life continues to inspire us all to reach deeper and higher to appreciate the true meaning of creativity.