November 12, 2022 — Amber Young: 
Zoom Simulcast: My Artist Journey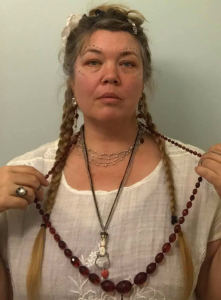 Amber Young is the very talented designer behind Ragged Thistle Clothing. She's a local California artist who specializes in making romantic yet functional clothing from vintage linens, slips, and assorted treasures. She will be sharing her artist journey, as well as tips for sourcing and caring for vintage linens. She will offer a smattering of vintage trims and linens as well as some of her original clothing in a trunk show.
facebook: https://www.facebook.com/raggedthistle/
Instagram: https://www.instagram.com/raggedthistle/ or @raggedthistle
This program is free to all Active PenWAG members; registration and login information will be sent via electronic communications.

Non-members may register to attend for a $5 contribution, which may be paid via our online enrollment store. Registration and login information will be sent after payment.
Click this button to add the Guest Contribution to your cart:

$5.00Read more