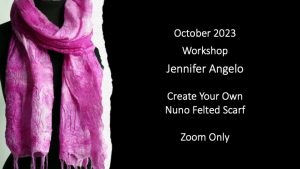 Jennifer uses the finest merino wool and light silk to create wearable art that provides warmth in the winter and the lighter ones provide warmth against chilly air conditioning in the summer. She produces these lightweight garments using a technique called nuno felting.
Nuno—from the Japanese word for "cloth"—is a modern take on the ancient craft of felting that involves coaxing slender wool fibers through loose silk fabric. Nuno felting offers wonderful versatility when creating deep colors and touchable textures.
Students will complete a scarf with merino wool and silk using the wet felting technique. Jennifer will discuss the history and uses of felt, explain the types of felting, and you will complete a project of a soft and distinctive scarf.
After you register for the workshop, you will receive a form asking you to choose the colors you would like for your scarf.  Jennifer will dye the wool and silk components for you so it is important that she receives this information before September 20, 2023.  The cost of the kit is $35 and you can pay with Venmo or Paypal.      
The kit for this nuno felted scarf class includes:
Silk- hand dyed
Wool – hand dyed
Accents/decorations
Painters' plastic
Netting – this is the base that the fibers will be adhered to. You can choose from
black or white silk habotai or white gauze silk.
Students will need:
A 6 ft long table. Or a kitchen counter or island. Or a picnic table.
If you are using a 'good' table it will need to be completely covered with plastic.
An old shower curtain, picnic tablecloth or a new package of painter's plastic will work.
Bubble wrap (the small bubbles not the large bubbles) 2 ft by 7 ft (84 inches)
Electric kettle for hot water
4 cup plastic yogurt or any container for soapy water felting solution
Dawn or other dish soap, 7th
Larger container for rinsing your scarf (kitchen sink is ok)
2 old face cloths
Several large old bath towels (minimum of 3). You may drip water on the floor.
2 plastic bags, the type you get in the vegetable aisle of the grocery store.
$65.00Read more