From Fiber to Felt: My Journey into the World of Felting
Jennifer Angelo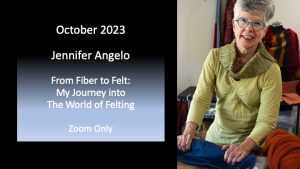 Jennifer Angelo is a textile artist and has been felting for over 14 years. She loves touching and squeezing the fleeces while selecting the perfect wool for her pieces. She learned this craft while living in New Zealand where sheep graze close to the ocean. The ocean and the sheep are
her inspirations. Jennifer's goal is to design and felt artistic garments that make the wearer feel
invincible.
$5.00Add Guest Registration to Cart