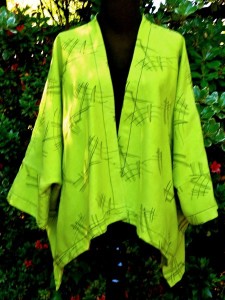 Local artist and past PenWAG President Marcia Manzo has been creating since she was a young girl, beginning with embroidery and needlework and moving to more complex crewel embroidery and quilting. Using textile collage, she created new fabrics that evolved into a line of colorful wear.
Morning Program: The Plaza and Beyond
In this lecture and trunk show Marcia will show us how to make interesting and exciting variations of a single pattern such as the Plaza Jacket.
Afternoon Workshop: Constructing your Plaza Jacket
PLEASE NOTE THIS IS A FOUR HOUR WORKSHOP
In this workshop, Marcia will teach students how to construct their own unique Plaza Jackets.
Students will need to bring their sewing machine (also extension cords!), basic sewing kit,  yards of fabric and thread to match.
Marcia will be glad to work with you in advance to pick out fabrics prior to the workshop weekend. Material kit (fee $15) includes Marcia's re-designed Plaza Jacket pattern, hem pressing templates and that Purple Thang.
For more details about PenWAG classes and workshops, visit our Workshop Calendar pages