Lecture:  Fashion Forecast
Sandra Betzina, the "power" behind Power Sewing, is the author of More Fabric Savvy, Fast Fit, Power Sewing Step-by-Step, Sandra Sews for the Home, No Time To Sew and Fear of Sewing. She has produced a skill series of eleven Power Sewing DVDs and also designs a full line of patterns for Vogue under the tab of Today's Fit. Sandra hosted her own show, Sew Perfect, on HGTV for six years and now has a new, Web-TV show called Power Sewing. Sandra is also a popular speaker and hosts several week-long Sewing Retreats in San Francisco throughout the year.
Before you make or buy your next piece of clothing, find out what is new in shapes, colors, jewelry, purses and shoes.
Roosevelt Room – Q-80
Free for members; $5 guests at door
Saturday Workshop:  New Techniques/Trunk Show!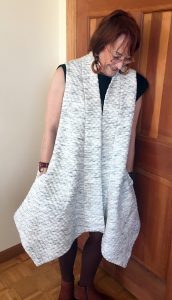 Sandra Betzina will show a trunk full of new clothes and patterns to inspire you!  In this class, Sandra will concentrate on details which make her garments unique and functional.
Learn how to stabilize and finish necklines in knits and wovens so they do not stretch out of shape and lie flat against the body.  Learn how to inset a finishing strip into a neckline, line knit pants, make perfect sleeve plackets, sharp collar points and some clever new pockets.
Mary Campbell Room – Q-84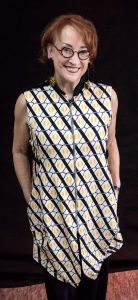 1:30 to 4:30, 3 hour workshop
Class size: 40 students
$55 members, $70 guests

THERE IS NO MATERIALS LIST FOR THE SATURDAY TRUNK SHOW/DEMO
Sunday workshop:   Trouser Workshop with Vogue Pattern
photo by Michael Mustacchi
Get Sandra Betzina's take on choosing the right fabric and pant for a project!  Try on Sandra's pant pattern (Vogue 1411 or Vogue 2948).  Sandra will determine any alterations you need to make so that you can alter your patterns and cut them out.  (Bring a ruler, tape, a high lighter pen, 2 yds Ponte/double knit fabric (V1411), 2 1/2 yds Muslin (V12948) and scrap paper for altering the pattern.
California Hawaiian Mobile Home Park
3637 Snell Ave, San Jose, CA 95136
10:00 to 4:30 PM   6 1/2 hour workshop
Class size: 15 students
$85 members, $100 guests